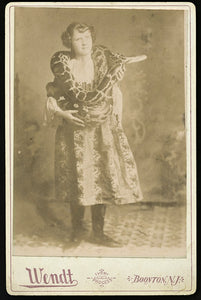 Original 1890s cabinet card showing a young sideshow snake charmer holding a large snake... ball python? I'm unsure of the exact breed. Photographed by the celebrity / sideshow personality photographer Wendt of Boonton, New Jersey.
Cabinet card is 6.5" x 4.25" with blank back. Overall in good or better antique condition. The contrast is probably about a 6 out of 10.  The photo has light wear and soiling, otherwise is undamaged.
Shipping: First Class photo mailer. Boxed Priority also available at checkout.