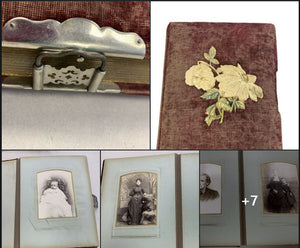 Antique photo album, measuring about 12" tall when closed. Floral celluloid decorations on the front cover... album exterior is cloth, appears to have one time been covered with velvet.
Album is complete and intact with all 12 of its original double-sided pages. Interior pages are in very good or even excellent antique condition overall, with only a few insertion tears in the entire album, no missing or loose pages. The floral decoration on the front cover has some damage.. a bit of missing top layer and a couple of areas that are lifting but still attached.
Included are 33 original photos (17 cabinet cards, 14 CDVs, 2 tintypes), a couple dating back to Civil War era. I checked about 90% of the images and all but one (Boston) were from New Hampshire cities. The condition of the images is excellent.. I did not see any damaged or cropped in the ones I checked.
Free Priority Mail shipping (US Only... Just select "Album Rate" at checkout)