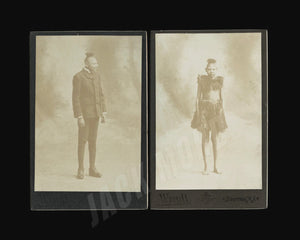 Two original cabinet card photos by Wendt. The backs were produced blank, but written in pencil on the back of the boy's photo is:
"Yuko (?) Age 27 Height 39 in, Weight 45"
3 feet, 3 inches tall and 45 lbs!
The back of the girl's photo has no writing.
It was hard to get a good scan... they are a bit overexposed but all details are visible and are otherwise in very good
antique condition. 6.5" x 4.25" each.
Boxed Priority Mail.