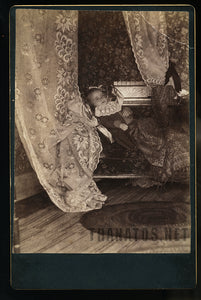 Original cabinet card, deceased little boy laid out on am Eastlake style couch with lacy curtains on either side. One of the curtains has a black mourning ribbon affixed to it. The boy's eyes are open. 
Cabinet card is 6.5" x 4.25" with blank back, as produced. Most of it is in very good or better antique condition, unfortunately there is a crease in the upper-right corner. The crease is pretty stable though... no danger of becoming detached.
Shipping: Choice of First Class photo mailer or boxed Priority Mail.