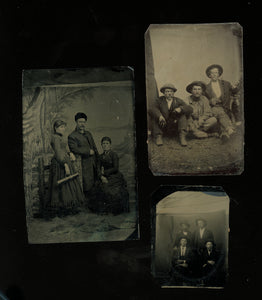 Lot of three interesting group tintype photos, all antique, pre-1900. This listing is for all three:
First tintype: A man and two women, one holding a strange object, not sure what.. a traveling purse? Sewing kit? Telescope? 
Second tintype is of three men sitting on the floor, one holding what looks like a slingshot, the second smoking a cigar, the one on the left holding a long pipe.
Tintype three, four men smoking cigars in a tent studio. Approximately 1/9 plate size.
The largest tintype is about 3.75" x 2.25". The two smaller ones have paper reside still stuck to their backs. Lot is in very good or better antique condition, with only a few soft bends between the three of them.