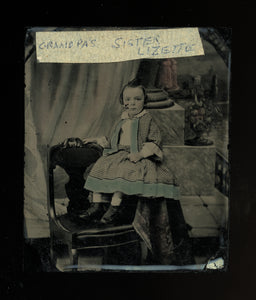 Sixth-plate uncased ambrotype on ruby glass. Original hand-tinting, and a sticker on the top that says, "Grandpa's sister Lizette", though to me they look more like a little boy than girl.. it might be "Grandpa", and not his sister.
"Lizette" is almost certainly a member of the Moye family of New York, as this was part of a group of Moye family photos, some with full ID's.
Some surface wear as shown. Use hover/zoom to examine condition details.