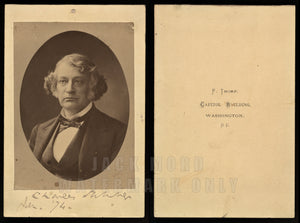 Very rare and original albumen cabinet photo of politician, orator and abolitionist
Charles Sumner, photographed by Freeman Thorp, whose studio was inside of the U.S.
Capitol Building.
6.5" x 4.25" mount is signed in ink by Sumner in the bottom margin - this is an original signature and NOT a facsimile - and dated January of 1874, only two months before Sumner died.
The overall condition is very good, with some age-related spots and other issues,
which the hover/zoom option should show well. My scan shows the front and back of
the same image.
Shipping: Boxed Priority Mail.