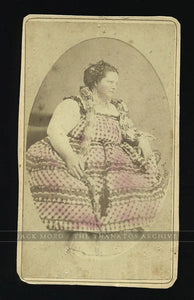 Original 1870s CDV of Madame June, a nearly 700 pound Victorian Era sideshow attraction who toured with Barnum's circus.
The back has no studio imprint, but "Barnum's Fat Lady" is neatly written along the right edge in older/period pen.
In this photo she can be seen with a huge snake draped over her shoulders, so apparently she was a double attraction.
Good or better antique condition with some aging spots and light surface wear. Left edge appears slightly trimmed, bringing
the dimensions to 4" tall to a sliver under 2.5".
Shipping: Choice of First Class (photo mailer) or boxed Priority Mail.