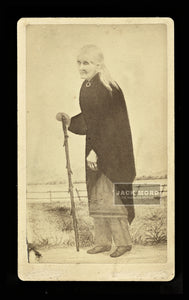 Very Rare, original CDV of Mary Jemison (1743-1833) as seen at about the age of 90... a drawing, as this image of her was created before the age of photography. 

In 1755 a group of Shawnee Indians captured Mary and her family, eventually killing and scalping her parents and siblings. Mary was eventually purchased by the Senecas, who gave her the name "Dehgewanus", translated as "The White Woman of the Genesee". Her story is a long and fascinating one - I recommend giving it a read on Wikipedia!

This is actually a very rare CDV... I have seen many Olive Oatman images over the years, but only a couple of this Jemison CDV.

CDV is about 4" x 2.5" with blank back, as produced, and is in very good or better antique condition.

Boxed and insured shipping, choice of Priority Mail or Express.