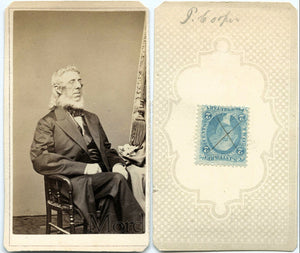 Original circa 1865 CDV of the American inventor Peter Cooper (February 12, 1791 – April 4, 1883) was an American industrialist, inventor, philanthropist, and candidate for President of the United States. He designed and built the first steam locomotive in the U.S., and founded the Cooper Union for the Advancement of Science and Art in Manhattan, New York City.

Civil War tax revenue stamp on the back. Although the stamp cover's the photographer's stamp, I am pretty sure that the photographer was Fredricks of New York.

4" x 2 5/16", so slightly trimmed, but overall in very good antique condition.