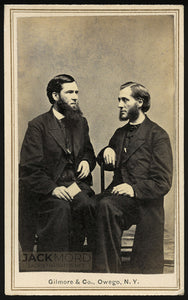 Original CDV of David Munson Osborne (left; 1822-1886) and a second man, who I believe might have possibly been his brother John Henry Osborne (b.1832)... possibly! He could have easily just been a friend, business partner...
D.M. Osborne was the founder of the D.M. Osborne farm machine manufacturing company which eventually became International Harvester. He was also the mayor of Auburn, New York in the 1870s, and was married to the famous women's suffrage leader Eliza Wright Osborne. His brother, John, was the director of the D.M. Osborne Co. at the time this photo was taken.
Photographer studio imprint is Gilmore & Co., Oswego, New York. The back is blank, clean, undamaged. CDV is 4" x 2.5" and in very good or excellent antique condition. The men are not identified, but this was out of an album with several D.M. Osborne Co., related photos and material, including an interesting set of 3 CDVs available in a separate listing.
Shipping: Boxed & signed Priority Mail.