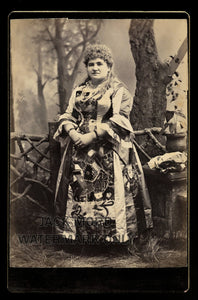 Original early-1890s cabinet card photo of a woman wearing an amazing crazy quilt
dress, with her matching hat sitting on the prop pedestal to the right.
There was a bit of a crazy quilting rage in the early-1890s, and it looks like 
this woman took it a step further by constructing a dress! It's a rare image... 
have owned and sold many quilt images from this time, but this is my first quilt
dress...
The cabinet card measures 6.5" x 4.25" with blank, clean back, as produced. It is 
in very good antique condition with light surface wear and soiling, none of which 
detracts in any way from the image.