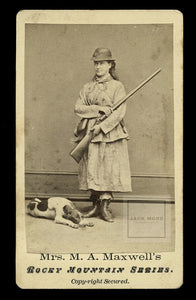 Original CDV of Mrs. Martha A. Maxwell and her sleeping water spaniel hunting dog.
Maxwell was a Colorado frontierswoman and hunter, and is regarded as the first accomplished female taxidermist in the United States.
She is posed in her field gear holding a double barrel shotgun, with two powder flasks (or a canteen and powder flask) on her hips.
Approximately 4.25" x 2.5". Very good antique condition..