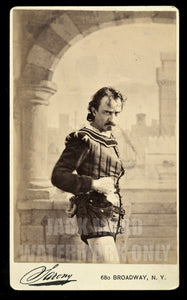 Rare original 1870s CDV of Booth (the brother of Lincoln's assassin), photographed by Sarony. The back of the CDV is blank, as produced, and clean.
Excellent antique condition. Mount is standard size, approximately 4" x 2.5". NO creases, NO trimming. Guaranteed original. A scarce image that would be difficult to find in better condition.
Shipping: Choice of First Class (flat photo mailer) or boxed Priority Mail.