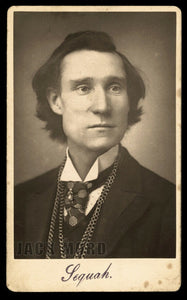 Original carte de visite of "Sequah", a quack doctor who peddled numerous dubious remedies.
Although from Yorkshire, UK, he had a distinctly Wild West persona and claimed that both he and his medicines were of Native American origins. Native American origins.
By the late 1890s, he was in such demand that he had to employ additional 'Sequahs', and there were as many as 23 of them operating. I am not sure if this is the original Seqhah (William Hartley) or one of the additional ones that he hired!
A hard to find image. The dimensions are 4" x 2.5" and in very good antique condition. The back is blank, as produced.
Shipping: First Class mailer or boxed Priority