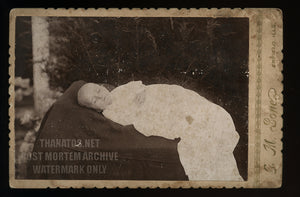 Original circa 1890 cabinet card, little baby photographed outdoors, a bit unusual for this period.. hands folded with foliage and possibly part of a front porch visible in the background.
Photographer was G.M. BONE or BONES of Enfield, Illinois.
Dimensions are 6.5" x 4.25", with blank back. Some soiling and surface wear, as shown.
Shipping: Choice of First Class photo mailer or boxed Priority Mail.