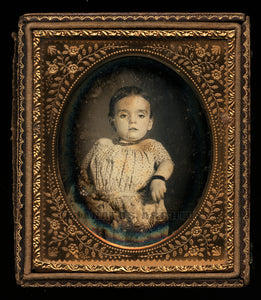 6th plate daguerreotype, deceased little girl propped in a chair, her eyes partially open. She's also wearing a bracelet on one wrist.. it looks like a human hairwork bracelet but it's lacking fine details to make that determination positively.
Dag comes in half of its original case. No longer sealed, with some condition issues, mainly several vertical scratches through the image, through her face and body and in the background above her head. Despite the flaws, still a strong post mortem image.
Shipping: Boxed & insured Priority Mail.