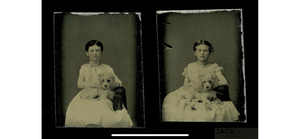 Two great c1870 tintypes of little girls, probably sisters, photographed in the same sitting. Both are shown holding the same dog in their laps. 
These are miniature "gem" tintypes, and are only about 1 INCH tall. They are in overall very good or excellent antique condition.
These look great in person! A lot nicer than my scan shows.