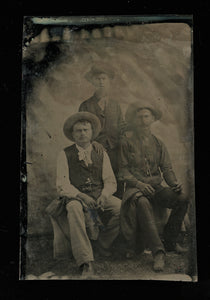 Original tintype of three men, from the Dominy family album, identified on the album age as George Dominy (1870-1894, seated on left) and George Saxon, seated on right. Man in the middle was not ID'd.
Research shows that George Dominy was crushed to death after falling out of a harvesting machine he was running on the farm of Jasper Clark, in Montgomery County, Kansas. I can provide more info, like a photo of the album page, family names, and a full account of his death.. just ask.
Tintype is 3.5" x 2.5" and in very good antique condition with no bends.
Shipping: First Class photo mailer. Boxed Priority Mail also available at checkout.