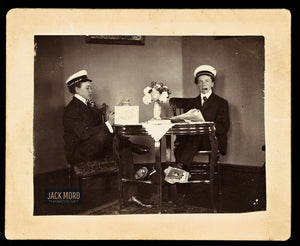 An interesting early-1900s mounted photo of two women wearing sailor caps, one reading a book, the other a newspaper and smoking a cigar. On the table are other books and photos, and on the lower shelf of the table are more photos, and a stereoviewer.
The two women look a lot a like, enough so that I wondered if this was a trick / double exposure, but under close examination I can find no evidence of that.. maybe they were twins! An interesting scene, whatever the case...
5.25" x 4.25" with blank back. Very good antique condition.