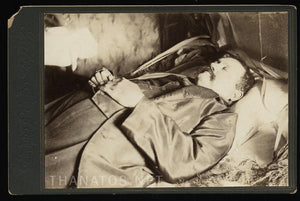 Do you support
The Thanatos Archive on Patreon
? Your price for this item is 
$115
.
Message me
to receive discount!
Cabinet card of a man in bed, holding a rosary. On the back in pencil is written, "Grandfather Legrendre, 1905"... this was possibly Joseph Legendre (1827-1905) who is buried in Cincinnati, although the studio imprint on this photo is Taber, of Chicago... could be he died in Chicago and was buried in the family plot in Ohio... 
Cabinet card is 6.5" x 4.25" and in very good antique condition overall, only condition issue being the chipped corner.