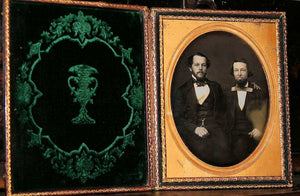 Half-plate, 1850s daguerreotype of two well-dressed, bearded men with their arms around each other. Mat is stamped MARKS in the lower-left corner, which could have been a number of photographers, but was most likely H.J. Marks of Baltimore, Maryland.
Dag is in a full case that measures 6" x 4.75" when closed. Covers are separated along the spine. Dag has been resealed with archival tape; bits of the original seals are inside of the case. It's in overall very good antique condition. There is a circular, light colored speckled halo of tarnish touching their shoulders that is not really very visible under normal viewing.
The light colored blob along the right side is just a reflection on the outside of the glass.... will add additional, better pics as soon as I can.
Boxed and insured Priority Mail (US)