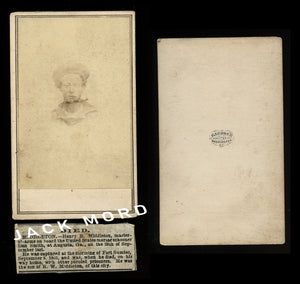 Original CDV by Gardner, Washington, D.C., showing a photo of Henry Beall Middleton (1838-1864) in uniform, along with his ORIGINAL obituary.
Middleton was master-at-arms aboard the Civil War mortar schooner USS Dan Smith, was captured at Fort Sumter in 1863, and apparently died on board the ship in Augusta, Georgia, September 1864.
He is buried at Oak Hill Cemetery in Washington, D.C.
CDV is 4" x 2.5". Image is a little light with some light staining. But it's a rare Civil War image that makes up for any minor issues.