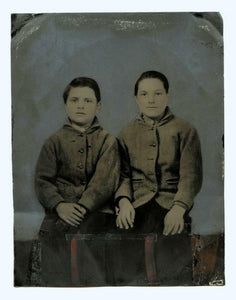 Full plate, original tintype of two brothers, identified as Sam and Grant Fuller sitting side by side. Their matching coats have a bit of a military look to them - perhaps they were some sort of boarding or military cadet uniform.
On a piece of paper taped to the back, in period writing:
"Sam Fuller / Grant Fuller
Sons of Samuel R. Fuller"
Size: Full Plate+++ 9" x 7".
Very good condition overall with a medium bend in the lower left, and lighter, inconsequential bends, mostly around the edges, that do not detract from the image. There is a rectangular bit of residue bottom center from the paper with their names on it, that is now on the back.
For some reason, my scanner has the background with different shades of blue. Pretty weird. The background of the actual image is a nice solid dark color, nicer than what is shown.