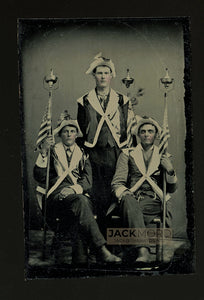 Original c.1880s tintype of three young political parade marchers, each holding a parade torch wrapped in the US flag, and each wearing oilskin vests and tricorn style hats.
Names and location of the men shown here are not known, however, this tintype was purchased from a seller in Alabama who found it at a local estate sale there, along with several other tintypes, one of which was identified as D.F. Bryan of Wicksburg, Alabama.
Tintype is about 3.5" x 2.5" with some surface wear and one or two soft bends.
Boxed & insured Priority Mail.