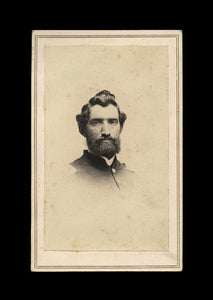 Original CDV of a bearded Civil War soldier. He is unidentified and there is no location (back is blank), but this photo was originally inside of an album that contained nothing but photos from Lexington, Kentucky, so it's a safe bet that is where this photo was taken as well.
Identified people in the same album had the following surnames: Searcy, Scully, Sweet, Gadd, and Loecher.
4" x 2.5". Very good antique condition, light foxing.
Shipping: Choice of First Class (flat photo mailer) or boxed Priority.