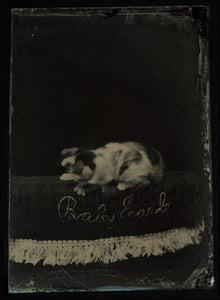 Here is a great original, early-1870s tintype of a young cat having his photo taken. You can see he was nervous, looking down over the edge and moving his head side to side during the exposure, creating a partial motion blur / double image. On the side of the padded stool he is posed on, somebody scratched his name, "Baby Earle".
 An great tintype in excellent antique condition with no bends. Dimensions are approximately 3.5" x 2.5".
Shipping: First Class photo mailer. Boxed Priority Mail also available.