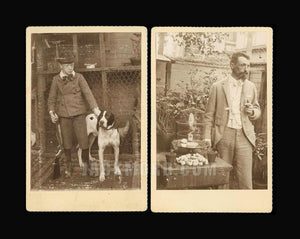 Two great original cabinet cards, father and son photographed outside, probably in their backyard, with their pets. The boy is standing with his dog and is holding a gun; in the background behind him is a chicken in a coop, as possibly other birds in the top level. The man is holding a cigar and standing next to a birdcage with a fluttering bird inside. On the table in front of the case are a bunch of sea shells surrounding what looks like a little bowl of water. I think I see something in the bowl.. maybe a little turtle? The backs of both images are blank but these are from an album with mostly Philadelphia studio imprints. I also have a third cabinet card of a little girl who was most likely the daughter/sister of these two, photographed in the same backyard, I think.
6.5" x 4.25" each. Very good antique condition.
Shipping: First Class (flat photo mailer). Boxed Priority Mail also available at checkout.