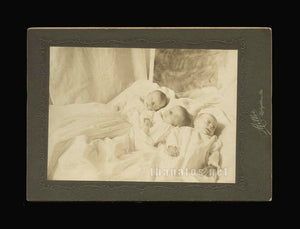 Original 7.25" x 5" cabinet photo of triplets. The one on the far left is post mortem, the others I am less certain about. The one in the middle appears to be alive, the one on the right is probably alive. I believe these children were probably the Seafass triplets, born to Mr. & Mrs. Oscar Seasfass of Weissport (a mile or two away from where the photo was taken). If that is the case, the deceased child was Annabella, who died in March 1910 after getting pneumonia. Whether or not the other two lived I'm not sure...

The cabinet card is in very good antique condition with blank back. Mount stamped Miller, Lehighton, Pennsylvania.

Shipping: First Class (flat photo mailer). Boxed Priority Mail also available at checkout.

Currently part of The Thanatos Archive Post Mortem Photography Collection.