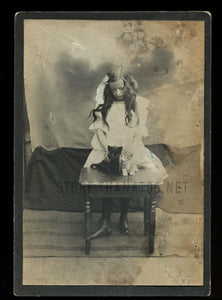 Original circa 1900 cabinet card showing a little girl and two little kittens, a black and white, sitting on a small table in front of her. Behind them is a makeshift blanket backdrop - this was probably an amateur photographer. The girl is wearing a white dress and it looks like she has a lacy white veil or other other accessory attached to her hair, but it's hard to say for sure.
Dimensions are approximately 6.5" x 4.5" with blank back. Some condition issues.. use hover/zoom for details. 
Shipping: Choice of First Class (flat mailer) or boxed Priority Mail.