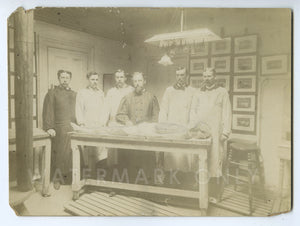 Original photo of a group of physicians and/or medical students posing with a cadaver. In the background on the wall are other similar photos (doctors posing with dissection corpses).
On the back in period pencil is written:
3rd from leftDr. A.C. JordanSon of C.S.A. Dr. Jordan
I think the doctor was likely Dr. Archibald Currie Jordan, born 1852 in North Carolina. "C.S.A." might stand for Confederate States of America.. his father Samuel Hargis Jordan was a soldier who fought in the Civil War, 34th NC Infantry, though I couldn't find a record of him also being a doctor.
Archibald went to medical school at the College of Physicians and Surgeons in Baltimore, Maryland, where this was probably taken.
Cabinet card is about 8" x 6.25". Some mount wear, as seen.