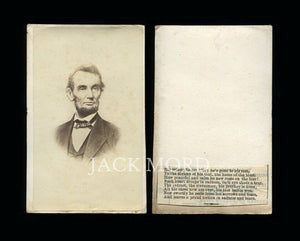 Original CDV with an original, period newspaper clipping, possibly from his obituary, affixed to the back.
"His triumphs are o'er; he's gone to his rest, To the throne of his God, the home of the blest. How peaceful and calm he now rests on the bier ! Each heart droops in sadness, each eye sheds a tear. The patriot, the statesman, his journey is done. All his cares now are over, his last battle won; Now sweetly he rests from his sorrows and fears, And leaves a proud nation in sadness and tears."
CDV is 4" x 2.5", and it is in very good antique condition.