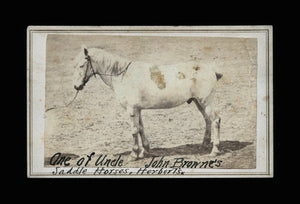 1860s CDV of a horse, identified as "One of Uncle John Browne's Saddle Horses, Herbert's".
4" x 2.5", with clean, blank back. There is some minor crinkling along the right edge of the photo but it's not heavy, does not affect the mount and the image is flat and completely affixed to the mount... might have happened when the image was originally laid on the card?
Shipping: Choice of First Class (flat mailer) or boxed Priority Mail.