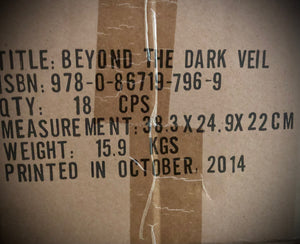 Dealer's Wholesale Special! One UNOPENED CASE - 18 copies - of Beyond the Dark Veil, , first printing, first edition, 2014 hardcover, still in the original printer's boxes that they came to me back in 2014! 

These printer's boxes have never been opened, but contain 18 shrink-wrapped copies of BTDV. Before shipping I will personally open each box to verify the count and look for any damages. Your box will then be packed in a second box to prevent damage during shipping.

Shipping Choices Available at Checkout (US Addresses Only)

1. Insured & signed USPS Economy 
(1-3 business days handling time + 4-9 business days transit time).

2. Insured & signed Priority Mail
(1 business day handling time + 2-3 business days transit time).