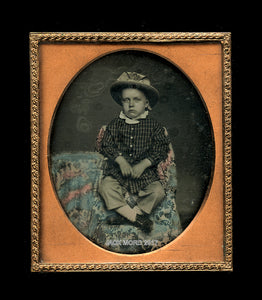 Sixth-plate daguerreotype of a funny little boy wearing a hat. Lots of original hand-tinting still visible. Comes in half of its original case, with its original seals in place. 
The boy is not ID'd, but this image was part of a small collection from a Bucksport, Maine estate.
Condition is very good.. the spots appear to be on the underside of the glass, not the plate, so they should be cleanable if you wanted to open up the seals.