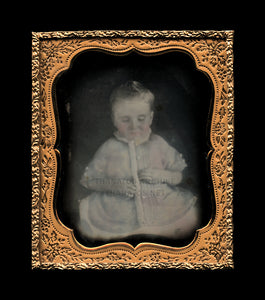 Sixth-plate daguerreotype, deceased boy wearing a tinted blue tunic. Soft focus on a dark background, giving him a somewhat ghostly appearance.
This daguerreotype is UNCASED and unsealed, but is in overall very good antique condition. Tarnish ring/tarnish, and a couple of tiny mat abrasions, but no serious damage of any kind.
Shipping: Boxed & insured PRIORITY MAIL.