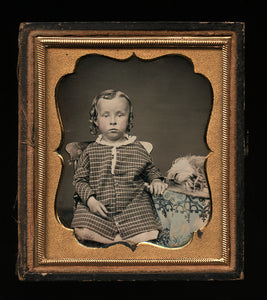 6h plate daguerreotype of a little boy whose hat is on the table next to him.. the tablecloth has some original blue tinting remaining.

Comes in half of a case. Looking at the back it appears the original seals are still in place, however under magnification I can spot some tiny mat abrasion from very slight mat movement. Underside of the glass is slightly dirty; light horizontal buff marks but no scratches, swipes or other noticeable damage.
Shipping: Choice of First Class (well-packed mailer) or boxed Priority Mail.
Inventory #5249