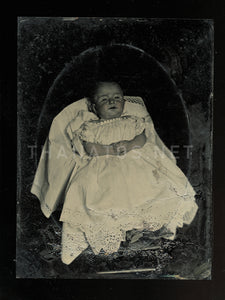 Original early-1860s quarter-plate tintype of a deceased infant wearing a white gown, whose eyes are open, hands clasped at his/her waist. They have been seated in a draped wicker chair, which has been placed in front of a dark backdrop. An amazing and sad post mortem image.
Dimensions of this tintype are approximately 4 1/4" x 3 1/4". Overall in very good antique condition, having no bends, but with some rough areas in the lower section, around where the child's feet are.
Shipping: Choice of First Class (flat mailer) or boxed Priority Mail.