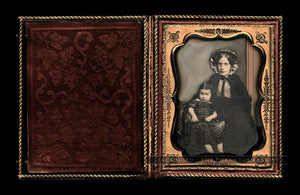 Quarter-plate daguerreotype of a woman and her little girl. The photographer is not identified, but this came out of a New Orleans, Louisiana estate. I recall seeing another example of this same unusual backdrop, and it was also out of a New Orleans Louisiana estate.
Strange looking object on the right; looks like a tinted or completely hand painted column or door. .. the vertical lines on the column/door were added by the photographer and are very bright in person, and when examining under magnification you see that the reason is because they are intentionally highlighted by the tiniest scratches up the entire length of them.
Dag is in a full case with separated covers. It has no seals but it in excellent condition, with no abrasions, swipes or other damage noted in the viewable area. Light layer of tarnish.
Boxed Priority Shipping