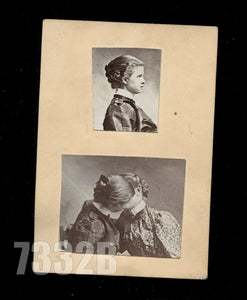 Excellent c.1899-1900 pair of original mounted gelatin silver photographs, the first showing a young woman in profile, the second showing her kissing another girl.
These images are in very good antique condition overall with a few light crinkles that look like they have always been there, (probably occurring when the images were glued to the paper backing) and are not damage. The mount itself is undamaged, with blank, clean back.
The mount is approximately 3.25" x 2.5", the photos are approximately 1" x 1" and 1.5" x 1.25".
Boxed, signed & insured Priority Mail shipping.
7332B